Edith Daniels is really good at two things: growing and arranging flowers and taking care of her younger brother, Milo. For the last twelve years she's focused mostly on Milo. But now a dear old friend, Simone, has died, leaving an old Victorian farmhouse and four acres of land empty and waiting.

Noah Winters is really good at two things: being bitter about the loss of his wife and haunting his Victorian farmhouse. He tolerated Simone and her family for decades, brooding in the background like the cranky ghost he is. But now Edith Daniels has moved in and painted his house a ridiculous shade of blue.

Edith is determined to endure Noah's outbursts and grow her farmer florist business. Noah is determined to drive her away and ignore the pulse of long-forgotten feelings stirring inside him. Neither of them is prepared to discover they've fallen in love.
First place winner of the Hearts Through History 2016 "Romance Through the Ages" Contest, Colonial/Western/Civil War category.
Better than any cowboy, Oakley Hallowell's hard work and mystical gifts are the reason her family's ranch thrives in the harsh landscape of Paradox Valley, Colorado, in 1889. But while the land and animals prosper under her care, Oakley battles to survive the control and abuse of her father, Gideon Hallowell.
Antero, a lone Ute Indian, helps Oakley after a fall from her horse. She prays Gideon never finds out—for Antero's safety and her own. But one chance meeting soon evolves into a forbidden love affair. When a local man is murdered and Antero accused of the gruesome crime, Oakley must fight for the life she wants. Hate, violence, death—can love survive it all?
A Thousand Sleepless Nights
After a tragic accident takes their young daughter, Matilda turns to her husband, Henry, and says, I wish I'd never met you; That's when the world goes dark, and Matilda wakes up to find herself in her childhood home with no memory of the last six years and a mysterious typewriter that could become the clue to discovering her past . . . and her future.
Moonlight Trilogy Book 3
Two members of the Covenant are dead, the Bond broken. Archard is also dead, but only because Simon used the forbidden control of his healing powers. Willa wakes the next morning beside him. But it's not Simon – not her soul mate and husband – it's Bartholomew the Dark. And she has no idea.
Moonlight Trilogy Book 2
Simon Howard accidentally killed three people. Four months later, the nightmares won't stop. Willa Fairfield, his girlfriend, his soul mate, wants nothing more than to help him move on. But guilt isn't the only thing getting in Simon's way. When unexplained earthquakes hit the small town of Twelve Acres and dozens of people go missing, the Light witches discover their most feared enemy, Archard, is still alive. Employing the twisted, dynamic magic of a legendary witch known as Bartholomew the Dark, Archard plans to exact his revenge and take control of the Powers of the Earth on the night of the black moon, a rare lunar event infamous for Dark magic. As the Light Covenant fumbles to defend against Archard's sadistic intentions, Simon's magic grows inexplicably more powerful--even dangerous. Willa throws all her efforts into solving the mystery of Simon's transformation, but when the events of the past storm into the present, the couple's future changes forever.
Moonlight Trilogy Book 1
Teri Harman's groundbreaking debut novel, the first installment in The Moonlight Trilogy, completely reinvents the modern concept of witches and magic. With its authentic translation of the history of witches into a fresh and entertaining package with unprecedented characterization, Blood Moon is sure to capture readers from the first page.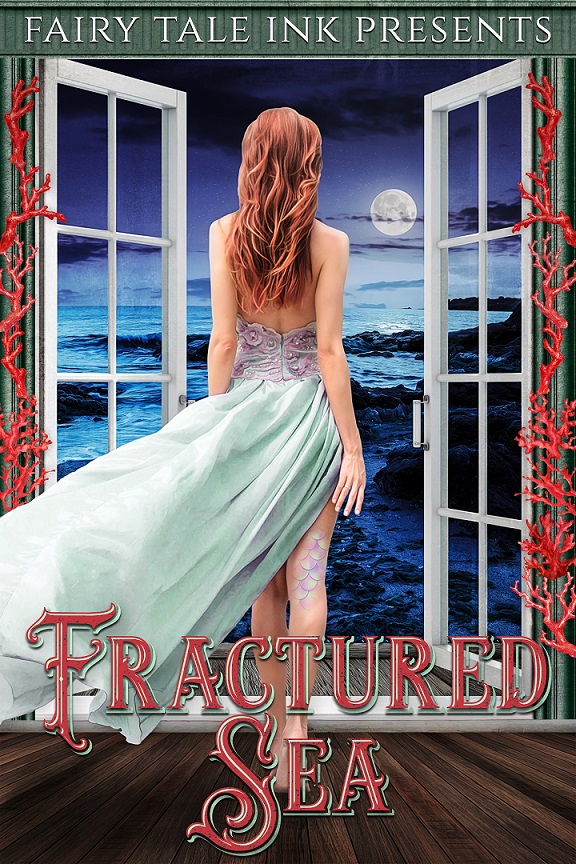 FRACTURED SEA, The Little Mermaid Retelling Collection
The Fairy Tale Ink is proud to present these five retold stories of the classic, The Little Mermaid. A story for every reader from best-selling and award-winning authors!

The Academy, by Jo Schneider: Ariel thought going to The Academy would rid her of the shadow of five older sisters, but school isn't all Ri dreamed it would be. Between a grouchy mage of a roommate and sisters who won't mind their own business, Ri finds solace in a chance encounter with the human prince. He too lives in a shadow, and they become quick friends. But when he starts asking probing questions about Ri's kingdom, she must find out what the prince is really after.

Sand and Sea, by Adrienne Monson: Prince Elex is in danger and the only one who knows of his intended assassination is Aria. But how can a mermaid save an innocent human from certain death? Luckily she knows a sea witch who just might have the answer to her dilemma. But will Aria be able to reach the prince in time?

Under the Moonlit Sea, by Teri Harman: As queen of the Moon Mermaids, Quila is responsible for keeping the tides flowing. Anson is a professional deep-sea diver, a dangerous sport few men survive. When Anson is trapped in a shipwreck, Quila defies the rules of her people to save his life. The rescue sparks a fevered attraction, but bridging the gap between land and sea comes at great cost.

Pua's Kiss, by Lehua Parker: Kanaloa, the great Hawaiian ocean god, has only one kapu law for his daughter Pua: bear no Niuhi-human sons or die. Easy to obey in her Niuhi shark form, but Pua has an irresistible itch that's relieved only by napping on the beach in the afternoon sun. When she meets Californian Justin Halpert, he's perfect. Alone on his prepaid Hawaiian honeymoon, he wants nothing more permanent than a temporary tattoo. For the first time in centuries, Pua's looking forward to a romantic interlude that doesn't end in a bloody shark attack. But modern times bring modern complications. Too bad Justin has secrets of his own.

Forbidden Words, by Angela Brimhall: A voiceless mermaid. A vengeful Greek goddess. A wicked family secret that could destroy all life above and below the ocean. Throw in a handsome human prince, five dangerous magical objects, and the deal of a lifetime and you'll be swimming to the edge of your seat to discover what happens under this sea.
When Mr. Mercer sends out a call for single women to travel to Seattle for teaching positions and the potential of forming marriages, 45 answer his call, becoming Mercer's Belles.

The following collection is based on based on true events during the 1860s:

ONE DANCE by Heather B. Moore:
When Harriet Silverman arrives in Seattle for a fresh start and a new teaching position, the last person she expects is to meet is a fisherman who seems to be every place she turns. As she gets to know Caleb Munns, Harriet discovers they are a perfect match--for friendship. They both have solid reasons for not pursuing marriage. But as their paths continue to cross, Harriet begins to see a completely different future than she imagined.

A JOURNEY TO LOVE by Teri Harman:
Cora, a nurse and surgeon's assistant who learned her skills during the war, joins Mercer's expedition in hopes of finding a job in the West. She's a widow and does not want to marry again. When she meets Albert, a surgeon who is traveling on board the Continental, she finds herself intrigued. Yet, Albert's determined to open his own practice in Seattle, make it a success, and has no plans to look for a wife. But the more time Cora and Albert spend together on the voyage, the more they are drawn to each other.

A FARAWAY LIFE by Linda Carroll-Bradd:
Teacher Sorcha Geraghty yearns for a fresh start after the death of her beau and a factory accident maimed her hand. Asa Mercer's call for teachers for Washington Territory provides a new opportunity, and she joins his ocean-going expedition. Upon arrival, she learns of the expectation for the women to become wives to the many bachelors. Sorcha needs a new plan and fast. Logging manager Lang Ingemar wants a teacher to provide basic English instruction to his Swedish-speaking crew and keep them out of trouble when they go to Seattle. When he convinces Miss Geraghty to relocate to the logging camp, he has no idea the ways his life will be changed.